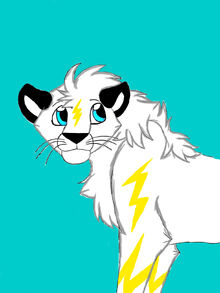 Zephyr is
Whitefox
's Best Friend and Companion also youngest son of Vizuri's Litter.
Thunderstorm

Mutant Name

Thunderstorm

Real name

Zephyr

Nickname

Thunder (in hero), Zeph (normal)

Gender

Male

Species

Panther/Cheetah/Lion

Family/Owner

Nichole (Owner), Vizuri (Mother), Unnamed Father, 4 Unnamed Siblings

Ability

Electricity

Affiliation

X-Men

Mate

None

Age

15-17 (human Years)
Appearance
Edit
Zephyr has pure white fur with yellow Lightning bolt on his legs,forehead, tail and on his shoulder. He has a tuff Mohawk which is backwards with fluffy furred chest,with ice blue eyes and a black nose.
He is the son of Firestar (A.K.A Vizuri) and was born as the smallest cub in the litter making him the runt of the litter. When Nichole was ten years old she was depressed about being picked on by other kids at school her parents deiced to get her a pet, they had heard that Katy's best friend and companion Vizuri had cubs of her own and they took her to see them. When her and her family saw them Nichole saw the smallest cub in the litter seeing he's the runt of the litter. Nichole had fell in love with the young cub and decide to adopted the cub naming him Zephyr based on had a lighting bolt on his forehead and legs and tail and shoulder.
Personality
Edit
He is strong-mind, loyal, very protective, playful, loving who those he cares about and he is aggressive towards his enemies and during battles.
As a cub hes very timid and quite,he always stays close to home and stays close with Nikki. During cubhood he began to be brave and protective, when Nikki was being picked on boys on her age it made Zephyr angry and unknowingly used his electrokeniness ability on the attackers.
During Teen years hes always a loving loyal companion to Nikki he sometimes gets into mischief.