X-Men



Base of Operations

Xavier Institute for Gifted Youngsters

Leaders

Professor Xavier.

Founding Members

Professor X

Notable Members

Professor X, Wolverine, Storm, Jean Grey, Cyclops, Nightcrawler, Rogue, Iceman, Shadowcat, Beast, Liger
The X-Men as they appear in fan-fics.
Leading Members
Edit
Professor Xavier is the overall leader while Cyclops is usually the field leader for missions.
Notable Members
Edit
Professor Xavier
Cyclops
Iceman
Emma Frost
Kayla Silverfox
Sins of the Father Revenge of the Son
Edit
A young Mutant named Jim, revealed to be the son of Logan, becomes a member of the X-Men after a fight with Wolverine and a talk with Rogue.
Father-Son Outing
Edit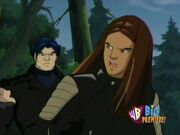 On a joint mission by Wolverine and Jim, X-23 is located and decides to join the X-Men, taking the name Laura Logan in honor of Logan and a suggestion from Jim.
Rising Tensions
Edit
It's shown that the X-Men take classes at the Institute in addition to Bayville High classes.